June 19-23, 2017 (9 a.m.-11:30 a.m.)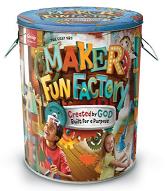 The 'best week' of the summer is coming soon … yes, that's Vacation Bible School (VBS) week! See if your kids, grandkids, neighborhood kids are interested in attending. This year's theme is Maker Fun Factory — Created by God — Built for a Purpose! Kid discover not only that God made them the way they are, but for a purpose, too. Maker Fun Factory is filled with incredible Bible-learning experiences kids see, hear, touch, and even taste! Science-Fun Gizmos', team-building games, cool Bible songs and tasty treats are just a few of the standout activities that help faith flow into real life. (Since everything is hands-on, kids might get a little messy. Be sure to send them in play clothes and safe shoes). Plus we'll help kids discover how to see evidence of God in everyday life — Something we call God Sightings. Get ready to hear that phrase a lot!
To register, download the pdf form here , print it and mail to Bethesda Lutheran Church of Malmo, 21590 State Hwy. 47, Isle, MN 56342. Questions, call our office at 320-684-2123.